cazigg and Anna Oz like this post
Maine dimineata la ora 6:00 începe prima transmisie live din Romania de la boncănitul cerbului carpatin.
"Boncănit / Carpathian stag Breeding season 2021"
aici:
https://www.youtube.com/user/stelianbodnari/videos
Tomorrow morning at: 6:00 NEW! The first live stream from Romania at the carpathian red deer breeding season here in Bucovina.
"Boncănit / Carpathian stag Breeding season 2021"
here:
https://www.youtube.com/user/stelianbodnari/videos
           Proiectul  
Bucovina Wildlife Livestreams Project
anuntat mai inainte, incercam sa il derulam in ciuda multor piedici... și încercări. În primul rând, suma necesară pentru achiziționarea camerei video și a sistemului de alimentare cu energie electrică și a internetului nu a fost colectată. Din suma totala a proiectului (detalii suma in proiect aici:
Detalii proiect
), pana acum sau strans doar 32%. Am facut eforturi pentru achizitionarea camerei video si sistemul camerei dar cu plata in rate. Pana la sfarsitul anului curent trebuie sa achitam suma totala. De aceea cei care ne urmaresc si vor sa sustina acest proiect ca sa poata continua, o pot face aici:  
Donate
sau aici  
bursabinelui.ro
          Boncanitul cerbilor carpatini din Bucovina este un spectacol impresionant ce se desfasoara in padurile, poienile sau parchetele din muntii Bucovinei. Perioada boncanitului este cuprinsa intre 15 septambrie si 15 octombrie. Actiunea se desfasoara dimineata, inca de la prima licarire de lumina, in timpul zilei se odihnesc si reincepe seara inainte de apus pana in noapte. Transmisia live va fi dintr-o zona principala de boncanit, un parchet vechi unde cu mult timp in urma a fost o padure batrana dar a fost doborata de vant. In acest loc ani la rand noi am monitorizat si observat comportamentul cervidelor iar acum vrem sa va impartasim si voua acest spectacol al boncanitului. Acest stream live este transmis cu acordul si in parteneriat cu gestinarul fondului, Directia Silvica Suceava.
Este interzisă intrarea în acest fond fără acordul administratorului. Nu deranjați prezența în această zonă de împerechere. Zona este monitorizată cu camere speciale de detectare și urmărire.
Dialogul din chat-ul live va fi doar referitor la subiectul streamului live si anume boncanitul cerbului carpatin. Pentru cei ce au venit mai tarziu, se poate viziona actiunea care a fost, deruland din urma ultimile 12 ore de transmisie. Streamul live va merge non-stop.
The  
Bucovina Wildlife Livestreams Project
announced earlier, we are trying to carry it out despite many obstacles ... and attempts. First, the amount needed to purchase the video camera and the power supply system and the internet was not collected. Of the total amount of the project (details about the value of the project here:  
Details project
)so far, only 32% has been collected. I made efforts to purchase the camera and the camera system but with payment in installments. By the end of this year we must pay the full amount. That is why those who follow us and want to support this project so that they can continue, can do it here:  
Donate
 or here:  
bursabinelui.ro
.
The breeding season of the Carpathian deer (Cervus elaphus) from Bucovina is an impressive spectacle that takes place in the forests, meadows or prosecutor's offices from the mountains of Bucovina. The breeding season period is between September 15 and October 15. The action takes place in the morning,  from the first glimmer of light, during the day they rest and resumes in the evening before sunset until nightfall. The live broadcast will be from a main area, an old parquet floor where a long time ago there was an old forest but it was knocked down by the wind. In this place for years we have monitored and observed the behavior of carpathian deer (Cervus elaphus)and now we want to share with you this show. This live stream is broadcast with the agreement and in partnership with the fund manager, Direction Silvica Suceava.
It is forbidden to enter this fund without the manager's consent. Do not disturb the presence in this mating area. The area is monitored with special detection and tracking cameras.
The dialogue in the live chat will be only related to the subject of the live stream, namely the breeding season of the Carpathian deer. I come back with a specification: for those who came later, you can watch the action that was, the last 12 hours of transmission. The live broadcast will run non-stop.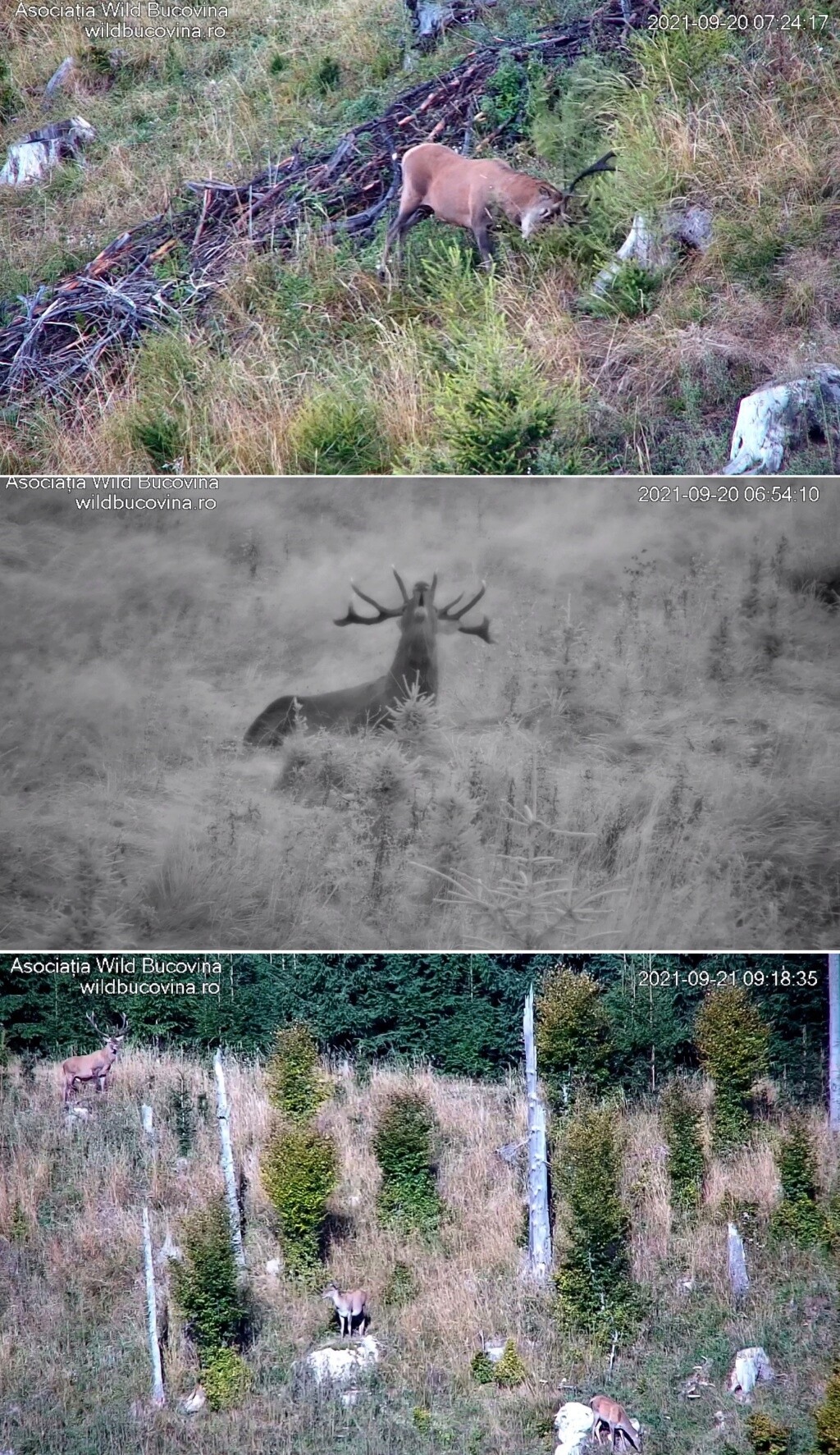 Last edited by Wild Bucovina on Wed Sep 22, 2021 10:10 am; edited 2 times in total
cazigg and Anna Oz like this post
LIVE stream here:  
Roma, cazigg and Anna Oz like this post
Similar topics
---
Permissions in this forum:
You
cannot
reply to topics in this forum